Bones 100s #3 OG Formula V5 Black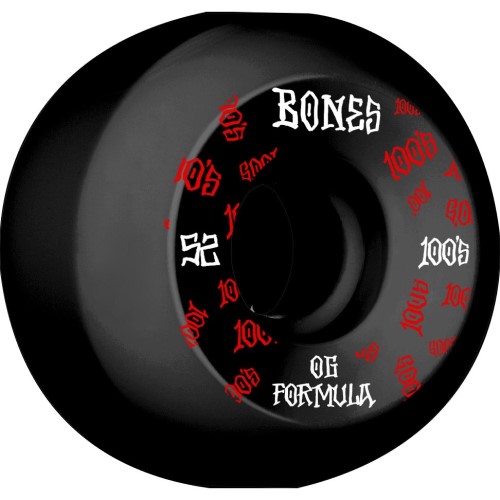 We round out our list with another offering from Bones in the shape of their 100s #3 OG Formula V5 wheels. This is a truly old-school wheel, with a durometer hardness of 100a, built for ripping skateparks and other smooth surfaces with speed, style, and a stark contrast to the shockingly white urethane used in most other wheels. The 100s are constructed using Bones' tried and true OG urethane formula, a staple of professional skateboarding for going on four decades. These wheels again are molded to the Bones V5 shape, offering versatility, weight reduction, and graphic protection when getting gnarly. These classics are highly resistant to flat spotting, so you won't need to worry about carefully skating off that topcoat of urethane during a day or two break-in period. These black beauties are available in 52mm, 53mm, and 54mm sizes for some light variety depending on where you ride. They are also perfectly functional outside the skatepark, but may occasionally fall victim to loose pebbles and cracks due to their outstanding hardness.
As always, Bones wheels are reasonable in price and offer something for everybody. In this case, the OG 100s are some of the best skate wheels for ripping the park or taking on city streets. They're built to last with decades of knowledge and experience solidifying their legendary industry status.
| | |
| --- | --- |
| Durometer | Original Price |
| 100a | $23.95 |
---